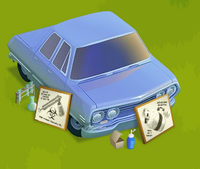 The old car is unlocked at the Dude, Where's My Car mission given by Jerry Lee in the main game screen mission lines. The mission preceding this is where you need to ask 5 neighbors help in killing firefighter zombies.
The old car takes 35 clicks and a total of 100 coins to complete. Each click changes the appearance of the old car until it is build.
Required to complete old car you need:
You can ask your friends to send these items to help you complete the old car by putting them on your wishlist.
Upgrading the old car takes 30 blueprints. Since this is your last required building in the home screen, after this you no longer need blueprints.
In the old car you can craft these weapons: