Flavor Text: Hey did you hear we've having a little neighborhood movie night. We're gonna watch some great Zombie flicks! The only thing we're missing is snacks...
Mission Description: Kevin wants you to help find ingredients for popcorn and diet cola
Goals:  * Harvest 35 Corn (35 Credits to Finish)
Reward: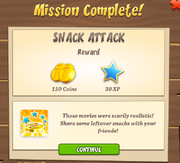 * Coins: 150
Hint: The diet colas will be consumed when this mission is completed.
Note: In the Android version clearing Bags from Rob do not count toward the Goals of this mission.
Given by: Kevin